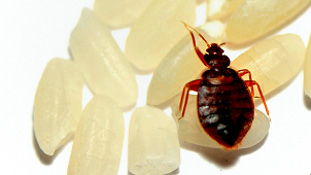 Sure, we've all heard the nursery rhyme, and we've all seen the pictures of rooms cluttered with bed bugs, their nasty skins and droppings, and read the news stories about bed bug infestations, their resistance to pesticides and how they are increasing to pandemic levels throughout the United States. But you are still thinking that you only have to worry about Bed Bugs at home and at Hotels right? RIGHT? Wrong. Here is a Travel Channel list of the Top 10 Bed Bug Infestation Spots (where you are most likely to be exposed and/or bring these little vampire hitchhikers home).
In other news, Vikane (Sulfuryl Flouride) Fumigation is 100% effective against all life stages of the pesky bed bug, including the hard to control egg stage. One single fumigation treatment to a structure, a container or a moving/rental truck and/or its belongings can eradicate the source population, prevent any pesticide resistant generations from continuing to unnaturally evolve, and make future preventative measures (such as a defined Integrated Pest Management program) more successful. DOW Vikane Fumigation is the only 100% effective eradication method for all stages of bug infestation that leaves no detectable residue.
Bed Bug Fumigation Specialists (BBFS) is the industry leading Vikane Fumigation Treatment Service specializing in bed bugs, termites, clothes moths, powder post beetles and other pest infestations. With over 40 years of collective fumigation experience, BBFS is the company with the record you can count on. Our professionals have safely completed more than 50,000 fumigations in our history, including over 2500 successful bed bug eradications in NYC alone. BBFS is also a recipient of DOW AgroSciences Commitment to Excellence (CTE) award for safely administering Vikane for thousands of customers.